RZ Audio Converter Options. RZ MP3 Converter Options.



Users have a variety of options, here you can change some default config. The option dialog can be accessed by clicking the options button

on the main interface of application. Following is The Option Dialog.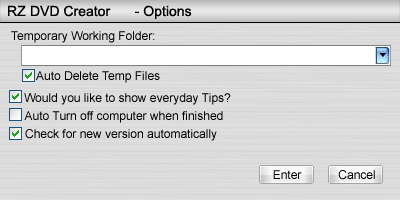 Temporary Working Folder: Drop-down click the "Temporary Working Folder" option to specifies the temp folder in your hard disk. If you checked the "Auto Delete Temp Files", the temporary files will be automatically deleted when convert finish.
Would you like to show everyday tips? Checked to show everyday tips when RZ Audio Converter launch.
Auto turn off computer when finished. If you checked this option, once finish converting, your computer will be auto turned off.
Check for new version automatically. If you checked this option, once your launch the RZ Audio Converter, it will check the new version in our server automatically.