The evaluation version of RZ Audio Converter comes with some limitations on functionality and a time limit on how long it may be used. When you purchase a copy you will be given a License Name and a Register Key that, when entered properly into the program, will remove all evaluation version limitations and restrictions. There is no need to download a separate file after purchasing a license. A license key may be entered from the "Enter Key" dialog within the application, which appears after click the "BuyNow" button

.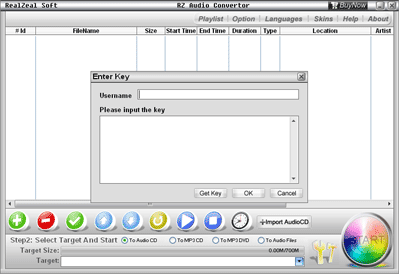 After receiving your license key in the order confirmation email, it should look something like the following:
START_LICENSE_COPY
Username:
Demo
Key:
xxxxxxxxxxxxxxxxxxxxxxxxxxxxxxxxxxxxxxxxxxxxxxxxxxxxxxxxxxxxxxxxxxxxxxxxx
xxxxxxxxxxxxxxxxxxxxxxxxxxxxxxxxxxxxxxxxxxxxxxxxxxxxxxxxxxxxxxxxxxxxxxxxx
xxxxxxxxxxxxxx
END_LICENSE_COPY
Then click the "BuyNow" button

within the application, (or the evaluation information dialog), and if you copied the license block correctly, it will look like this: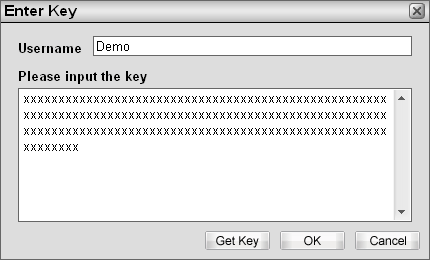 You can use the method of copying the name and key and pasting them separately into their respective fields. We do strongly recommend that you copy and paste, rather than try to type the values in -- especially the key. Once the Name and Key fields have the proper information entered click "OK" to accept. If the information is right then a dialogue will appear,it will look like this:(Congratulations on your purchase of RZ Video Converter!).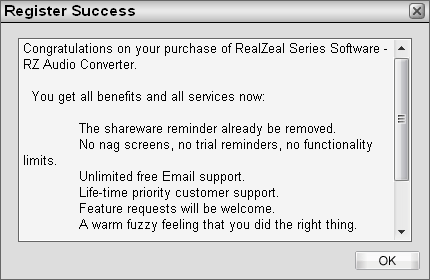 If the information was not accepted that the above dialog will not appear.